If you are searching for a reliable Multiple Effect Evaporator Manufacturer, then your search ends at New Fab Engineering System Private Limited. We are among the leading manufacturers and suppliers of highly efficient multiple-effect evaporators in India. We always give high importance to the quality and efficiency of our offered diverse range of advanced systems.
We supply this wide assortment of multiple effective evaporators to various industrial units, such as food & beverage, textile, pharmaceutical, agrochemical, dyeing, paper and pulp industry, chemical industries, etc. With the request of our clients and applications requirements, we also design and manufacture customized evaporators that are solely developed to reduce the working expense considering the initial expenditure.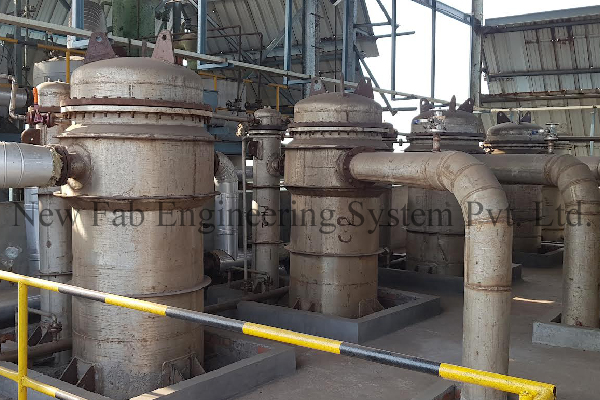 Multiple-Effect Evaporator system comprises an array of heat exchanger units that are widely used for many applications in industries to attain evaporation and acquire desired concentration as productivity by using an efficient amount of heat cause such as steam or hot water to evaporate water. We provide the best Multiple Effect Evaporator in India, which are cost-effective and highly efficient. Each Multi-Effect Evaporator manufactured under our high-tech manufacturing unit is the perfect system to concentrate an array of solutions or fluids.
Most of our offered multi-effect evaporating systems have tubular heating exteriors. The tubes are extended or short, flat or standing and the liquid can be inside or outside the tubes. 
It is also used when the unique properties of the fluids need to be conserved which is a significant aspect to attain product steadiness. 
The quality, reliability, sturdiness, and durability of our offered products make us the most renowned Multiple Effect Evaporator Supplier in the country.
Salient features of Multiple Effect Evaporator offered by the best supplier in India